Threesomes and watching 2 escort girls perform together
By London Escorts Imperial London Escorts Agency, 4th October, 2015
At London Escorts Imperial agency many of our escort girls and escort males enjoy performing together for your enjoyment. If you search under 'services' for 'DUO' you will see an escort gallery of our beautiful, adventurous London escort girls who enjoy performing, and our sexy well-endowed men. If you click onto their profile you will see which girl/guy they perform with. Try new experience in your life, explore your fantasies. We promise you an unforgettable experience with any of escort girls London based.
A threesome may be a long standing fantasy you have had, watching two beautiful escort women enjoying each other's bodies, knowing exactly where to touch and lick to bring the desired pleasure. Or possibly watching another man with your partner. In a previous relationship I had an ongoing sexual fantasy with my previous partner, my partner loved the thought of watching another man fucking me whilst I had his cock in my mouth. This was something that felt very naughty but also very exciting. It was something we discussed and planned whilst he was touching me or when we were having sex. We did never get round to fulfilling his fantasy however it is certainly something I still think about now.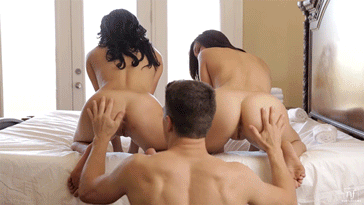 It may be that you simply like to sit back and watch the show, all of our escorts know exactly how to tease and turn their clients on and so you are fully satisfied can pleasure you until you cum afterwards, if you've not cum already. You may want to be touched and to join in the threesome, this is something that may depend on what you've been fantasising about before the experience. You may want to just watch but then join in, this is why it's a perfect opportunity to experience this with our open minded and understanding London escort girls and guys who will enjoy entertaining you whatever you decide.
In a relationship watching two of the London escort girls performing can be a turn on for both people, it is very sensual for women to watch other women pleasing and confidently making the other woman wet with excitement. Women's bodies are very soft, sensual and sexy and with curves and different places to touch make for a unique experience for a woman who may not have experienced this before.
Some London escort women who perform together may be heterosexual or bisexual. Many heterosexual women may have contemplated what it feels like to be with another woman and by working for Imperial escort agency have had the exciting opportunity to find out without any commitments. Our escort girls who work together enjoy going down on each other, feeling wet cum on their tongue and feeling the other girl's nipples getting harder. The girls are experienced in pleasing each other so know how best to pleasure the other into an orgasm. This is something exciting to watch and you will enjoy having the two escort girl's full attention throughout for your private show.
Escort London - Escorts London - London Escort - London Escorts - Escort In London - Escorts In London - Escort Girls London - London Escort Girls - Escort Models London - Sexy Escort London - Escort Agency London - London Escort Agency - London Escort Agencies - London Escort Service - Escort Service London - Elite Escort London - Escort Gallery London - Female Escorts London - Escorts - Escort Girls In London - Escort Agency in London
Here are listed the NEWEST LONDON ESCORTS.